Installing your Two Trees hammock is quick and easy. Simply follow the hints and tips below to ensure you are relaxing in no time at all.
Should you not want to use your included stand and would like to hang from a tree, beam or posts please follow the below guide. To hang your Two Trees hammock you will require two fixed points, such as trees, beams, posts, or dyna bolts into brick walls.Consult a qualified builder if unsure.

 Warning: Never use a free standing brick wall to hang your hammock.
Your Two Trees hammock will require a minimum of 3 metres between fixing points to get the ideal shape. Rope may be needed to attach one end of the hammock, it is recommended to use a double piece to avoid the hammock twisting.
Hang the hammock loops at roughly the same height. When the hammock is in use it should sit 20-30cm above the ground.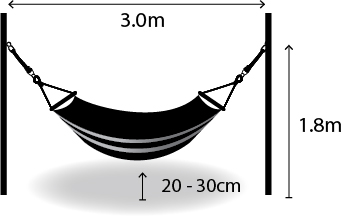 For temporary installations such as trees or beams we recommend using the Two Trees hammock hanging kit (TT501HK).
Place the cord around the pole or tree, then thread through the figure eight hook.
Thread the cord through the clamp hook and secure at desired length.
Repeat process for other side of hammock. Ensure both hooks are secure.
Place hammock ends over hooks.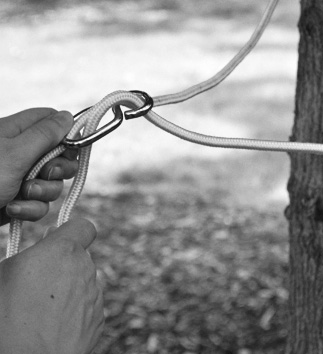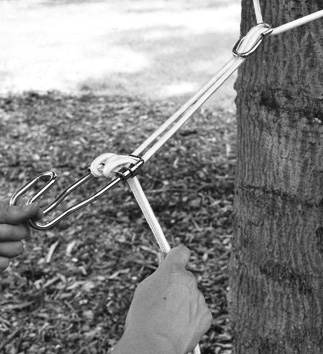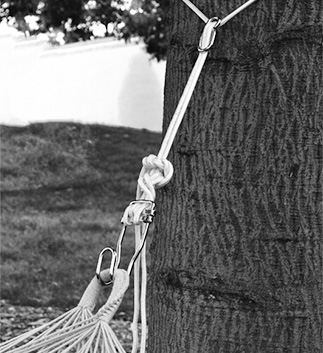 We recommend using the Two Trees screw eye and hook (TT502HH). Always check with your qualified builder if unsure for safety.
For sturdy masonary walls (not air, hollow, single brick, besser block, or free standing walls) a 10mm dyna bolt with large washer and rope can be used.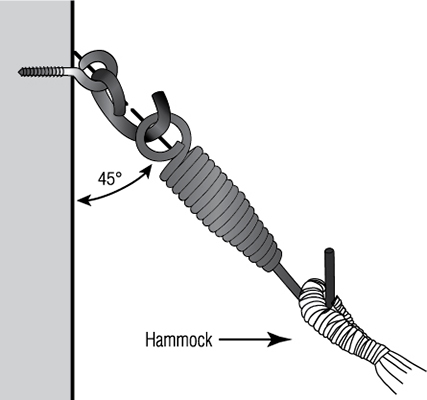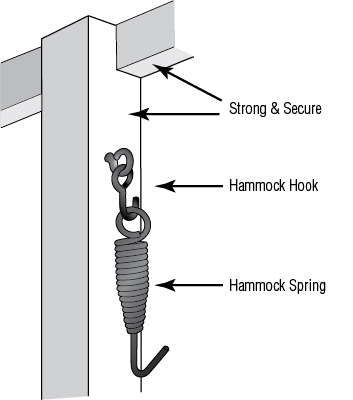 How to relax in your hammock
Open the hammock fabric in the centre of the hammock and slowly and safely sit in the middle as you would in a chair.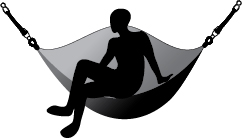 Gently lie back on a diagonal with your head on the edge of the hammock.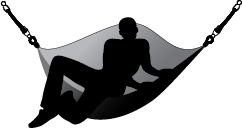 Bring your feet in and stretch them out, so you are lying on a diagonal. This is the traditional way to relax in a classic style hammock.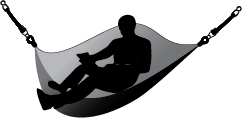 For maximum comfort in rod hammocks lie lengthways.